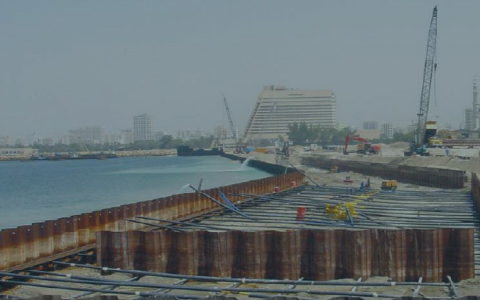 QUAY WALLS CONSTRUCTION
The Concrete quay wall structure consists of mainly of precast block units founded on a rock foundation (crushed rock). At the seaside, anti-scour rocks are placed to provide protection at the base level. The landside is filled with rocks encapsulated in geotextile fabric and granular fill materials. Separately, a covered service trench is also built alongside to serve the power and water grid requirement of the Work Scope. The top of the quay wall structure is finished with coping unit strips at the seaside and paving block units on the general area. In addition, service pits are also provided as part of the overall utility design. Marine furniture such as bollard, access ladder, mooring rings, and the like are also provided.
BREAKWATERS & PAVEMENTS
Breakwaters are built on coasts to protect the coast or structures built near the shore from the high tidal destructive effects or erosion due to water tides. These are basically made from a rockfill base with a course to medium fill core and outer coarser crusts covered by rock or concrete blocks. They are constructed away from the coast to offer a low tidal zone near the shoreline. The Breakwater is designed to withstand the wave and current forces in the area. It is also designed to have stable slopes in relation to the characteristics of the material being used. Construction of Breakwater along the outer boundary will protect the area in front of the existing Revetments and boundary of the designated area.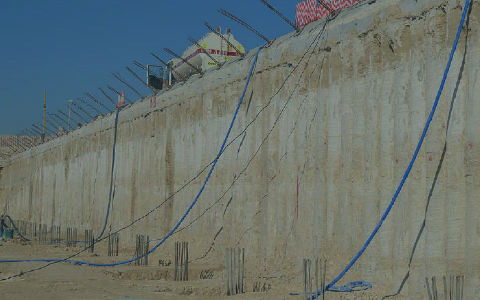 SECANT WALL
When excavating in close proximity to an existing structure, or when excavation is close to the water table, a secant wall is usually required. Secant walls may be preferable to soldier piles and lagging when minor losses of soil, during lagging operations, might be detrimental to adjacent footings.
These walls can be used to restrict water from entering the excavation. Secant walls are more common in urban areas than sheet piling as the piles are drilled and not vibrated into place, allowing them to be more readily installed close to adjacent buildings.
MARINE PILING WORKS
AFMS is specialized in onshore and offshore piling for the full scope of marine construction works. Its specialized marine piling team has a wealth of experience on a range of projects from marinas, berthing and over-water facilities, slipways, to smaller private pontoons and jetties.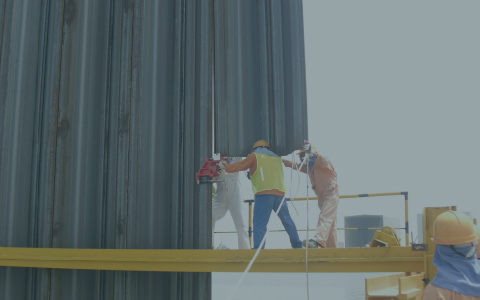 PRIMARY AREAS
This is the most common type of temporary earth retention solution for urban construction, especially when space is an issue. It is comprised of wide-flange steel beams, and thick timber lagging. The wide flange beams, known as soldier piles, are placed vertically in the perimeter of the excavation. These piles can be driven with a vibratory pile driver or drop a hammer and sometimes need to be drilled and concreted below the base of the excavation. Thick timbers are then placed between the soldier piles to retain the soil. Depending on the soil condition, different angles may be needed for the piles. The lagging is most commonly installed in 4' lifts.
The depths of excavation, soil type, and loading forces from proximity buildings may determine the need for additional shoring components.
SHEET PILING
Sheet piles are interlocking steel sheets typically driven into the ground with a vibratory pile driver. They are designed for work close to or within the water table. The interlocking sheets form a continuous barrier that permits excavation below the water table. The vibratory installation of sheet piles can significantly affect nearby structures and therefore is not commonly used in urban areas. Stable Ground has the expertise and equipment for more limited sheet piling projects in UAE.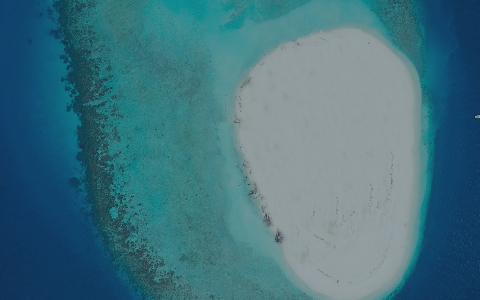 ARTIFICIAL ISLAND SOLUTION
Artificial Island Solution is one of the innovative solutions of AFMS. With the valuable experience in dredging, marine construction and land reformation. AFMS was able to integrate this knowledge into one solution. AFMS has different systems in dealing with this solution such ocean brick system, a Revetment system, a Caisson type system, or a gravity-based platform system. AFMS is flexible to Artificial Island as per the clients' needs.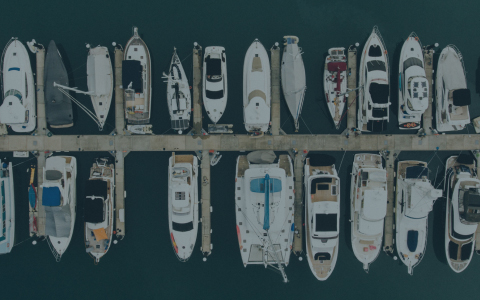 PONTOON
From small fishing ports to full-service marinas for luxury yachts, we provide cost-effective solutions to all your requirements using our own designed, manufactured and installed pontoons. Our marinas can accommodate metered services and utilities, lighting, safety equipment, and any other marina accessories that you may require. With the support of our marine civil works team, we can provide turnkey marina construction so you need to "Just Add Boats".
BOARDWALKS
We design, manufacture, and install raised boardwalks and decks supported on steel piles, using the same durable materials and construction principles as the ones used in our marinas and pontoons. Our boardwalks and jetties use the same principles, construction methodology, and materials as our pontoons, thus having the same advantages of durability and strength in the harsh marine environment as well as the customization flexibility and cost-effectiveness.
FLOATING BARRIERS & SCREENS
We design, manufacture, and install custom made floating barriers. We also install floating screens (silt screens, safety screens, debris collection screens, etc) as well as Aids to Navigation.
SPECIALIST METAL FABRICATION
(Gangways, Railings, Shade Structures, Bollards, etc.) Our in-house specialized metal fabrication workshop can manufacture a variety of items for marine applications such as: marine aluminum railing, gangways, bollards, safety ladders, pile guides, pile caps, brackets, shade structures, etc. The raw materials used are mainly aluminum, mild steel, and stainless steel.
SPECIAL AND FULLY CUSTOMISED PROJECTS
When it comes to special marine projects, we like to be challenged so feel free to contact us with your specific requirements and we will do our best to provide a cost-efficient solution to meet your needs.
SPECIALIST METAL FABRICATION
We provide maintenance and post-construction services to marinas and marine installations/works even if these were undertaken by others!